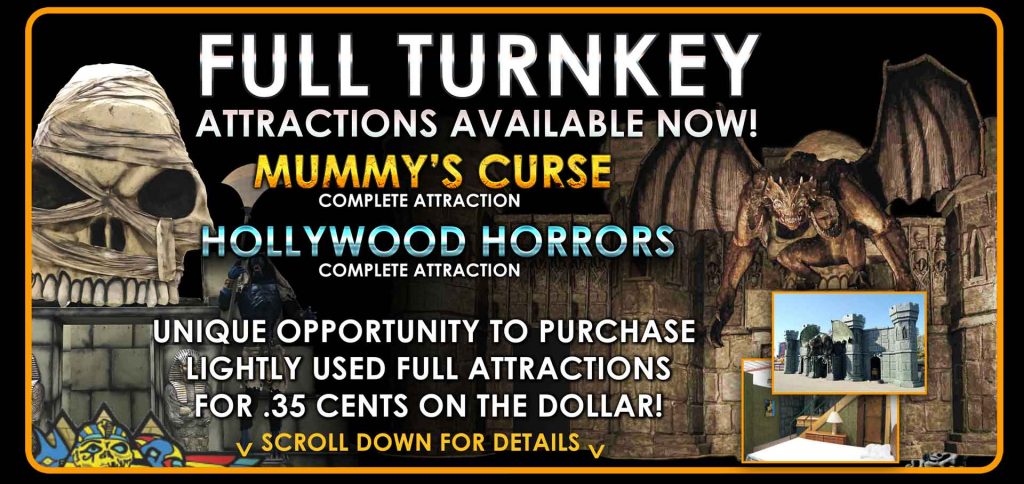 This past October The Scarefactory provided multiple complete attractions, as rentals, to the Saudi Horrorfest in Riyadh, Saudi Arabia.
The full attractions were used for the (7) days of the festival and returned to us in Columbus, Ohio.
The majority of the costs of these attractions were offset by the rental fees paid by the festival and we are now looking to liquidate (2) of these full attractions at an incredible savings.
The Scarefactory, Inc. is a full service Design and Fabrication Animatronics Studio that specializes in creating Haunted Attractions and everything that goes into them. We are best known for our catalog line of economically priced animated characters, furniture, fixtures, and props, but we also design and execute full attractions of any theme for clients across the globe. To grow and support our clients, we strive to develop over 30 new products each year to provide Innovation – not Imitation – to the Haunted Attractions industry. Our incredible staff is comprised of Degree'd and Accredited artisans and technicians who meticulously handcraft each and every piece we sell. We take tremendous pride in the unparalleled finished product we provide our customers. Each year, we provide our products and services to more than 500 attractions (haunted and non) around the world, and we look forward to having the opportunity to discuss the role the Scarefactory can play in your attraction.