THIS ATTRACTION HAS BEEN SOLD BUT PLEASE CONTACT US ABOUT CUSTOM ATTRACTIONS WE CAN BUILD FOR YOU!
EMAIL US AT scarefactory@msn.com or call  (212) 256-1902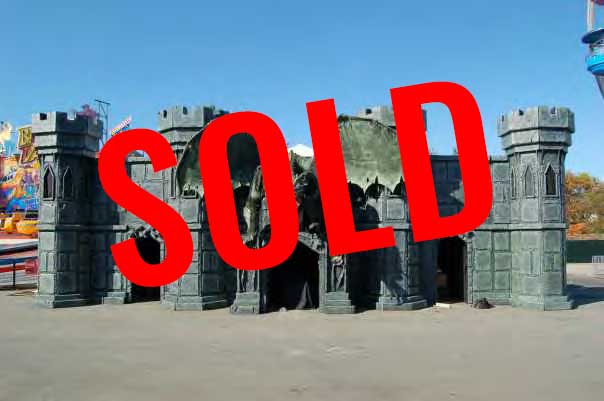 Unique opportunity to purchase lightly used Full Attractions for .35 cents on the dollar.
This past October The Scarefactory provided multiple complete attractions, as rentals, to the Saudi Horrorfest in Riyadh, Saudi Arabia.
The full attractions were used for the (7) days of the festival and returned to us in Columbus, Ohio.
The majority of the costs of these attractions were offset by the rental fees paid by the festival and we are now looking to liquidate (2) of these full attractions at an incredible savings.
The Hollywood Horrors Attraction with/or without full Castle Façade with Animated Slayer Character on front is being offered at a -60% Discount or .40 cents on the dollar.
Any and all reasonable offers will be considered.
Both of these are complete turn-key modular attractions which include themed walls, animated characters, props, sound, lights, compressors, controllers, sensors, electrical, etc.
These are excellent side attractions which would allow you to instantly add a completely new additional upcharge for your event.
Hollywood Horrors Dropbox link to photos, schematics, dimension, etc. is here:
Video link to a lights on walk thru of Hollywood Horrors setup Below:
Please email me directly at Scarefactory@msn.com<mailto:Scarefactory@msn.com> with any questions and to receive additional information on these attractions.