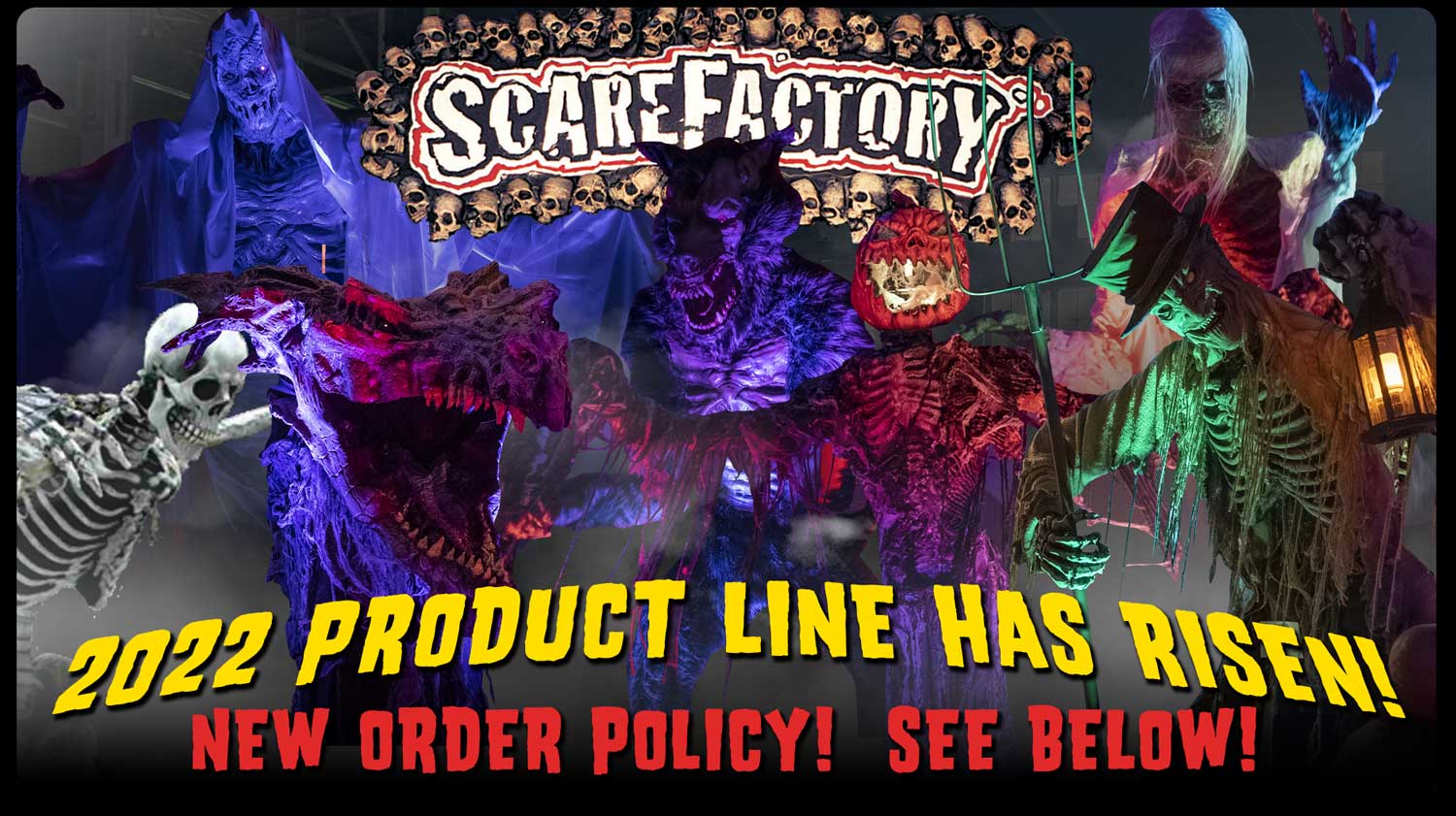 Scarefactory Order Fulfillment
Policy for the 2022 Season
To better serve our clients and to address/mitigate the challenges of building/shipping 100's of orders in a seasonal production cycle.
For 2022, we will be running (3) consecutive product lines: an Expedited, Standard and Custom.
Expedited Product Line: Lead time 5-21 days.  Limited quantities of all new for 2022 and new for 2021 product items have been created/allocated on a first come/first serve basis within our expedited program for 2022.  This program was developed to dramatically reduce the order fulfillment time/process and to gain production efficiencies that benefit everyone.  All new for 2021/2022 products have been standardized and mechanism and body parts are 90% pre-built, in mass and simply waiting for client orders to determine which character theme they need to be final dressed in.  These will be filled in the order upon which they are received, until reserves are depleted.
Standard Product Line: Lead time 4-6 weeks.  All other standard catalog items found on our website that do not require alteration/customization from the standard look/function.  Delivery time will be quoted upon time of order to determine ship date at time of order as this lane fills.
Custom Product Line: Lead time TBA. Standard catalog items that need alterations to their look/function or other non-catalog items, will require a written quote with written delivery time established, based upon availability.
The Scarefactory, Inc. is a full service Design and Fabrication Animatronics Studio that specializes in creating Haunted Attractions and everything that goes into them. We are best known for our catalog line of economically priced animated characters, furniture, fixtures, and props, but we also design and execute full attractions of any theme for clients across the globe. To grow and support our clients, we strive to develop over 30 new products each year to provide Innovation – not Imitation – to the Haunted Attractions industry. Our incredible staff is comprised of Degree'd and Accredited artisans and technicians who meticulously handcraft each and every piece we sell. We take tremendous pride in the unparalleled finished product we provide our customers. Each year, we provide our products and services to more than 500 attractions (haunted and non) around the world, and we look forward to having the opportunity to discuss the role the Scarefactory can play in your attraction.